WOULD YOU LIKE THAT MORE PEOPLE KNOW ABOUT YOUR EVENT? WE ARE HERE TO HELP YOU!
We provide complex marketing opportunities to promote your programs based on our unique database and highly visited media surfaces. Thanks to the state-of-the-art technology, we are not just thinking about our target audience, but we are reaching out to potential customers personally with Your offer!

YOUR PROGRAM RECOMMENDATION REACHES EVERYONE:
With Jegy.hu users, you can reach the not yet reached segment of your target audience: around 10 millions of tickets are available on the portal each year for approximately 50,000 events. Our goal is for the ticket-buying audience to be able to find all the events in Hungary and to be able to buy their tickets online. Your advertising on our surfaces is almost guaranteed to reach your future customers!
PROFESSIONALLY EXECUTED:
Thanks to Jegy.hu's responsive display technology, from giant monitors through tablets to mobile phones, you can perfectly enjoy it on every media platform. The Jegy.hu mobile app can be downloaded to both iOS (Apple) and Android smartphones and has more than 17,000 users, and this number is growing rapidly. It is just as important for us that our newsletters are properly displayed on all surfaces.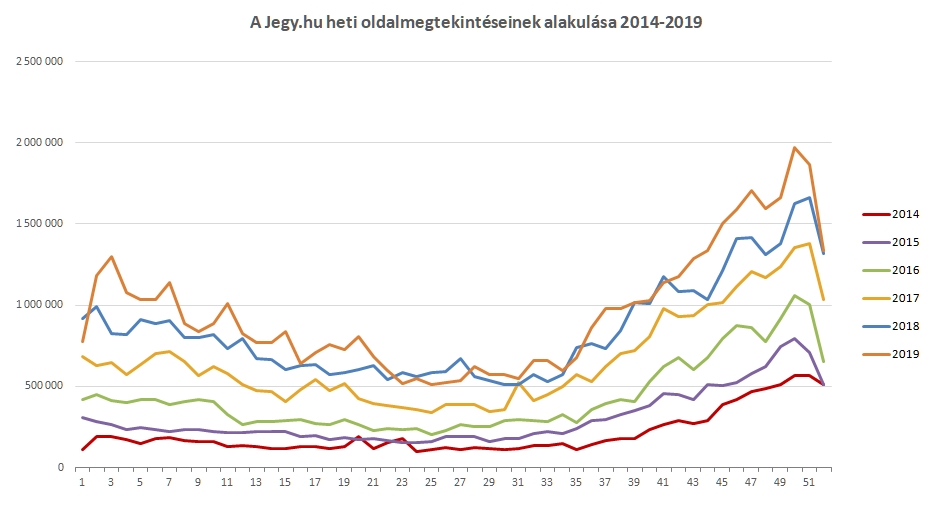 Forrás: Google Analytics
TAILORED TO YOUR NEEDS:
Beyond proven marketing solutions, our experienced and flexible staff is open to any unique idea or need, whether it's a special newsletter or an Instagram post or a komlpex PPC campaign!
Appearence on Jegy.hu cover
The Jegy.hu website is used by five hundred thousand unique visitors every month, and its ads can be seen by everyone who buys tickets on the website. What's special about Jegy.hu is that the ad is also a ticket sale: by clicking on the offer, the visitor can buy your tickets right away.
You can choose from three main types of appearance when ordering:
Slider referral:The big featured referrals on the top of the page (5 appears in turns). Referrals will also randomly appear on relevant program pages in the right-hand sidebar.
Featured referral: Medium-sized referrals appear below the ticket search. Up to three such referrals may appear on the site. Referrals are also randomly displayed on the program pages in the right bar.
Standard Referral: Small referrals appear below the top list, 3 offers in one row, and in 4 rows.  Referrals are randomly displayed (less frequently than the other two featured referrals) in the program bar on the right.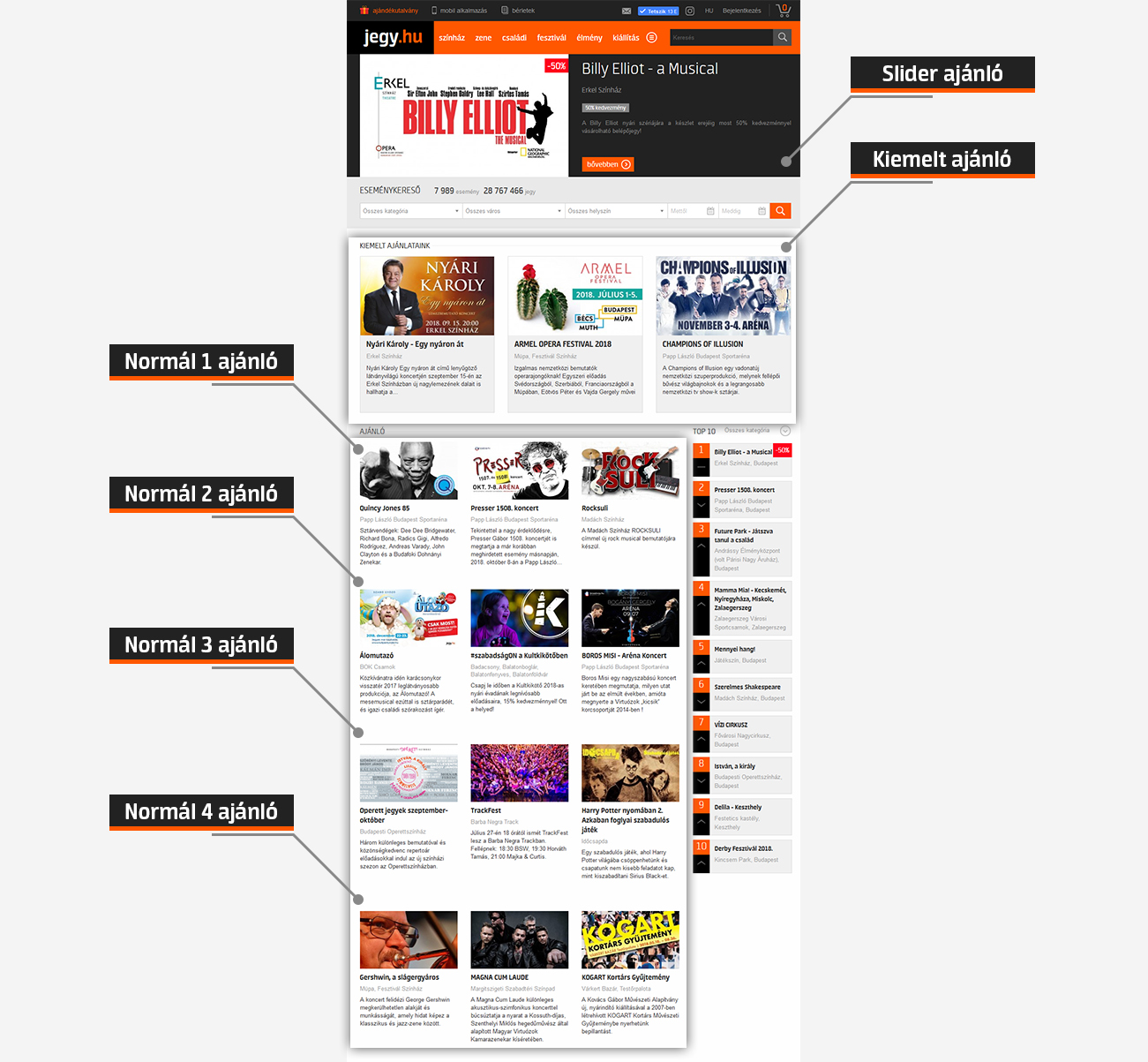 | Jegy.hu portál és mobilalkalmazás listaárak* |   |
| --- | --- |
| Slider: | 120 000 Ft + VAT / week |
| Featured: | 100 000 Ft + VAT / week |
| Standard 1. row: | 60 000 Ft + VAT / week |
| Standard 2. row: | 50 000 Ft + VAT / week |
| Standard 3. row: | 40 000 Ft + VAT / week |
| Standard 4. row: | 30 000 Ft + VAT / week |
*From the 1st of October till the 31st of December we charge 30% extra seasonal fee.
Appearance in Jegy.hu newsletters
One of the most effective marketing tools available today is personalized newsletters, far beyond the effectiveness of traditional advertising. The number of visitors subscribed to the Jegy.hu newsletter is more than 130 thousand and the database is expanding intensively.
We take great care to keep in the address book only the addresses of the users who actually open the newsletters and click on the referrals. To this end, passive addresses are regularly removed from the list. Newsletter subscribers are typically a group of 24 to 60-year-olds who spend on culture, highly educated, regularly attending theatrical performances, music events and festivals. can be classified into A and B category groups (ESOMAR) 
We manage your newsletters with an intelligent email marketing systemm the most important features are the followings:
custom user profile building (compiling a list of contats based on open and click data, content preference and purchase data)
detailed statistics
Regular newsletter
Our reguler newsletters are sent every two weeks to the entire subscriber base, with exciting, thematic selection from the current program offering.
On the newsletter's referral surfaces, we provide our professional partners with the opportunity to place advertisements in the form of edited referrals. These referrals reach the most active, most interested and most frequently purchasing audience on Jegy.hu. Ticket purchase can be started directly from the referrals.
Lead Referral: Full-width position shown below the headline of the newsletter with image and text.
Featured Referral: There are 2 referral positions with image and text below the lead referral.
Standard Referral: There are additional image, text referral positions below the Featured Referrals, listed in order of the recommended program date.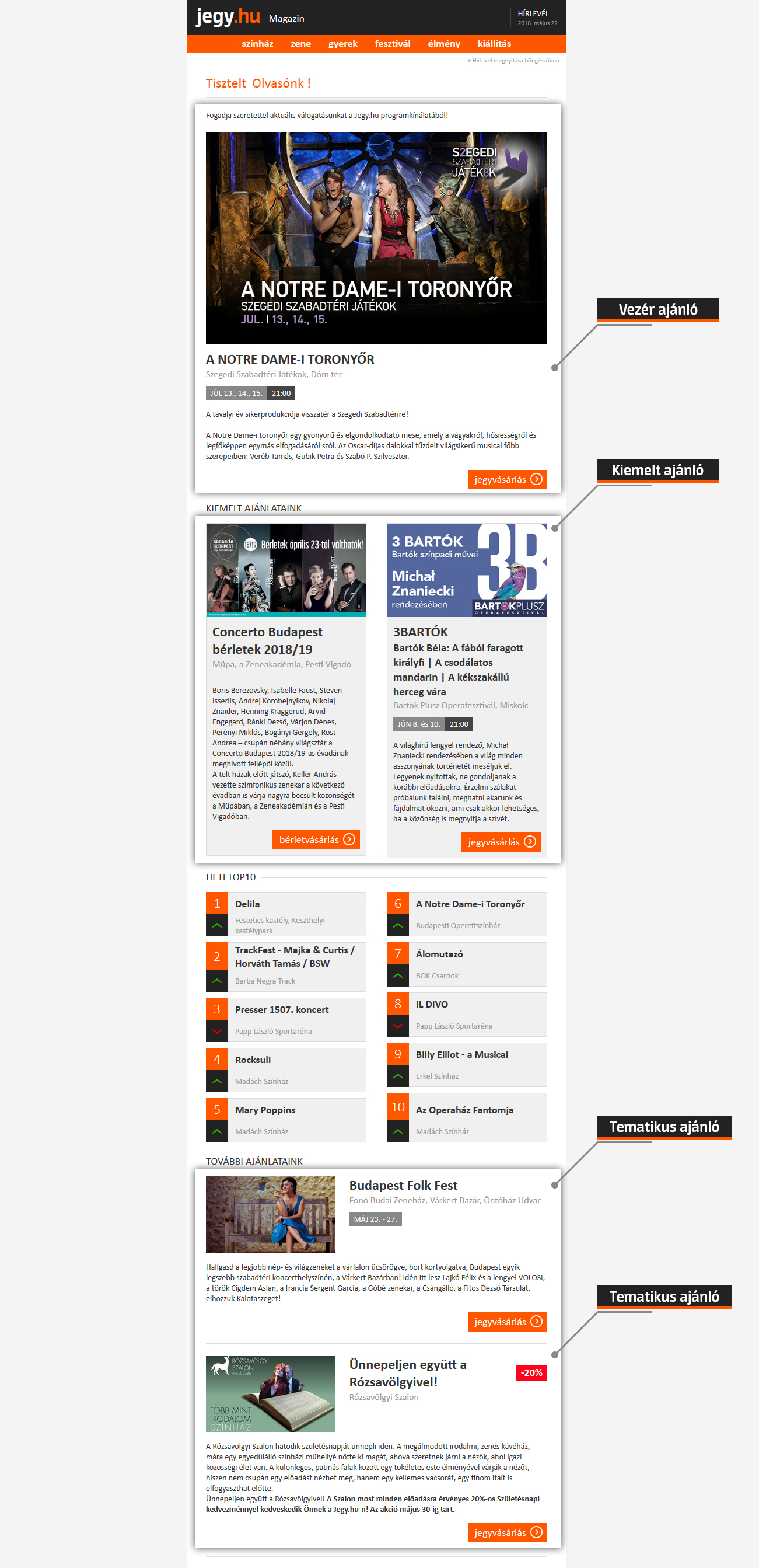 | Jegy.hu regular newsletter list prices* |   |
| --- | --- |
| Lead referral: | 120 000 Ft + VAT /occasion |
| Featured referral: | 80 000 Ft + VAT /occasion |
| Standard (thematic) referral: | 60 000 Ft + VAT /occasion |
*From the 1st of October till the 31st of December we charge 30% extra seasonal fee.
Jegy.hu unique newsletters
Unique newsletters offer a wide range of marketing opportunities to support events and boost ticket sales. Our smart newsletter marketing system allows us to tailor newsletters and recipients to the unique goals of your event and your unique target audience.
intelligent segmentation options
personalized and event-driven send outs
detailed statistical module for evaluating effectiveness

| Jegy.hu unique newsletter list prices* |   |
| --- | --- |
| Unique newsletter: | 300 000 Ft + VAT /send out |
| Targeted newsletter: | 20 Ft + VAT/contact, but the minimum price is 100 000 Ft+VAT |
*From the 1st of October till the 31st of December we charge 30% extra seasonal fee.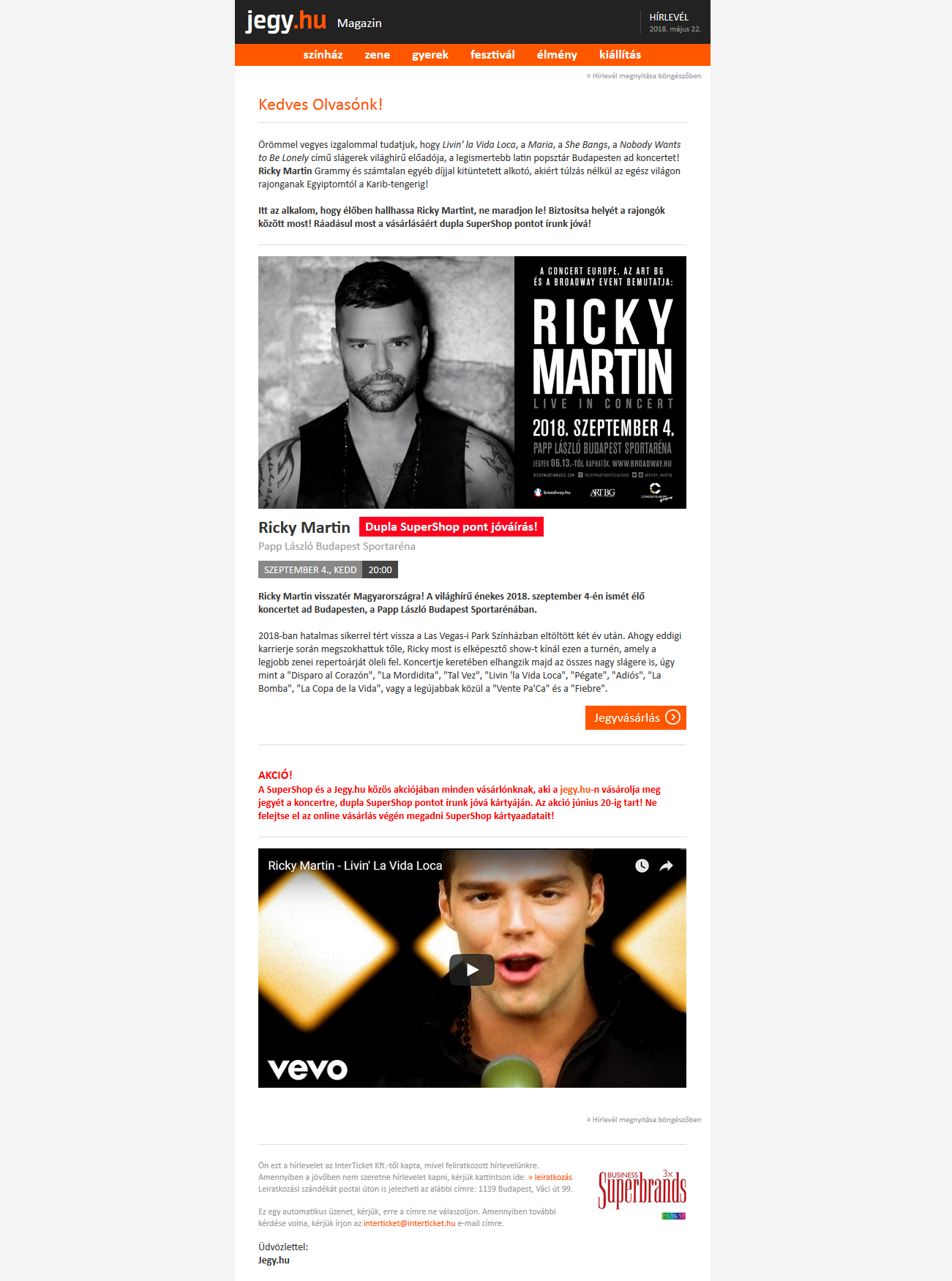 Social media
Today's marketing communication is inconceivable without the use of social media platforms. Through Facebook and Instagram, Jegy.hu can reach not only its followers, but can also reach solvent people who are interested in culture and leisure.
| Facebook and Instagram appearance list prices* |   |
| --- | --- |
| Facebook post: | 30 000 Ft + VAT /occasion |
| Facebook game: | 60 000 Ft + VAT /occasion |
| Facebook ad: | 50 000 Ft + VAT /occasion |
| Instagram post | 20 000 Ft + VAT /occasion |
| Instagram game | 40 000 Ft + VAT /occasion |
*From the 1st of October till the 31st of December we charge 30% extra seasonal fee.

Game options on the Jegy.hu portfolio
Jegy.hu organizes prize games on three platforms (web portal, newsletter, social media) to activate the audience.
| Game list prices* |   |
| --- | --- |
| Full range sponsored game (game page + newsletter referral + game policy + draw) | 500 000 Ft + VAT |
*From the 1st of October till the 31st of December we charge 30% extra seasonal fee.
Complete PPC service
Along with our traditional ad appearances, we are at the service of our partners in designing and managing complete PPC campaigns, even with remarketing audiences. Contact our colleagues for a detailed quote!
Further promotional opportunities on our partners' surfaces
Through our partnerships, you have the opportunity to advertise on other high-profile sites.
Jegy.hu is a member of the SuperShop system, so we can send news of your program to its 550 000 newsletter subscribers and nearly 100 000 active Facebook followers.
Discounts
Our experienced staff will be happy to help you design a complex promotional plan for the program you want to advertise on the above surfaces. We give you a volume discount from our list prices, based on the value of your ordered ads for a specific time rate, calculated at the net list price.
| Advertising value tiers on list price | Discount | Time range |
| --- | --- | --- |
| 300K - 500K Ft+VAT | 20% | 4 weeks |
| 500K - 1000K Ft+VAT  | 30% | 8 weeks |
| over 1000K Ft+VAT | 40% | 12 weeks |
General information
Only programs available on Jegy.hu can be advertised.
The CTA (call-to-action) of the ad, can only be directed to Jegy.hu.
Advertising weeks are Monday to Sunday.
We bill our partners at the end of completion of orders or in case of ads running through multiple months, we bill them monthly.
The Volume Discount Package must be used within the period specified in the order, otherwise the discount will be billed to our partner.
An ad featuring a show may only run in one position at a time on the same media platform.
Referrals for the same genre of a venue may not run at the same ad position in the same media platform at the same time.
Referrals for events of the same genre from a venue may not run continuously for several weeks in the same ad position on the same media platform.
We must also take into consideration content editing aspects in our media platforms,


we should therefore avoid displaying large numbers of referrals of similar thematic and genre at the same time,
continuous promotion of an event over several weeks.
Due to the above, we reserve the right to notify our partners in such cases and request that the ads to be redistributed
If you would like to advertise on our platforms, please coordinate with our colleagues during campaign planning, to make sure of the availability of them.
General advertising conditions:https://www.jegy.hu/articles/355/altalanos-hirdetesi-feltetelek